Summer in Japan is very hot.
It exceeds 20 degrees C after May and often exceeds 30 degrees C, but it reaches nearly 40 degrees C in July to August.
When spending every day in such summer heat, most of the Japanese become "summer heat fatigue".
Symptoms include decreased appetite, general malaise, and lack of energy. In addition, it is said that the cause is a temperature difference between indoors and outdoors and weakness of the gastrointestinal tract.
Famous measures against such a summer heat fatigue include avoiding being in the hot sun for a long time, keeping the room temperature at an appropriate temperature, and hydrating, but one of the measures is to cool the body eating summes vegetables.
Summer vegetables are said to cool the body, and cucumbers, eggplants, tomatoes and okra are among them.
Today I use tomato and okra.
Vivid colors such as green, purple and red!
In addition, pork rich in vitamin B1 is also effective in relieving fatigue.
Grapefruit and lemon add sourness.
Take enough nourish and survive this summer!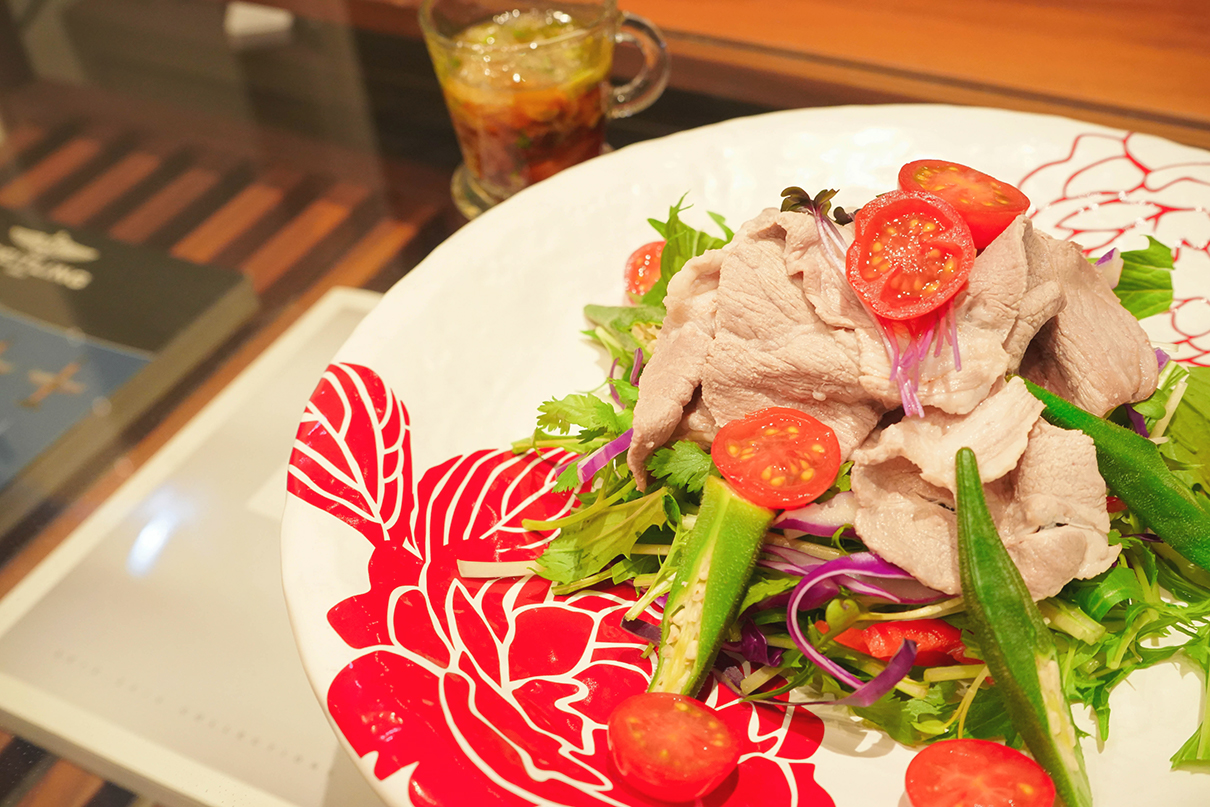 Ingredients
About 200g of pork loin thinly sliced
2 Bunch of Potherb mustard(Mizuna)
1 Bunch of coriander
4-5 Pieces of okra
1/4 Pack of white radish sprouts
1-2 Pieces of purple cabbage
1/4 Pack of red cabbage sprout
1/4 Red paprika
6 Cherry tomatoes
-For dressing-
a)1/2 Grapefruit
a)1-2 Pieces of coriander
a)Soy sauce(2 tbsp)
a)Sesame oil(2 tbsp)
a)Lemon juice(2 tsp)
a)Honey(1 tsp)
Directions
1 Okra is sprinkled with a small amount of salt (outside the amount) on a cutting board and rolled.
 Put in boiling water, boil for about 1 minute and half, then remove and place in cold water.
2 Wash the vegetables and start preparing.
 Cut off the stem of potherb mustard(mizuna) and cut into 3-4 cm width.
 Leave 1-2 pieces of coriander for dressing and cut the rest into 3-4 cm width.
 Shred the purple cabbage.
 Remove the roots of the white radish sprout and red cabbage sprout, and cut into a size that is easy to eat if long.
 Drain the okra, and cut the stem and cut into 3 pieces diagonally.
 Cut the red paprika into quarters and remove the seeds,and cut into thinly sliced.
 Cut the petit tomatoes in half horizontally.
 *If you cut petit tomatoes horizontally instead of vertically, you can see the seeds well♪
3Make a dressing.
 Peel the grapefruit and cut half, keep only the pulp.
 Finely chop the coriander left over in (2).
 Put all the grapefruit, coriander, and the rest of the ingredients in (a) in a container and mix the seasoning while crushing the grapefruit pulp.
 *Adjust the taste with honey or salt♪
4 Boil the pork.
 Boil the water in a pot, shake the pork in the water to heat it, then put it in cold water and let it drain.
5 Put (2) potherb mustard, coriander, purple cabbage, red paprika, white radish sprout on the plate, put pork, and add okra, red cabbage sprout, petite tomato♪
 Let's wear dressing as you like!