Today's dish is a marinade with salmon and cucumber.
This time the main dish has a strong habit.
The soup is a healthy cream of edamame soup.
Speaking of side dishes that line up with them comfortably.
it's an appetizer that you can eat like a salad.
(I will introduce the main dish in the next blog!)
Cucumber is used like a bowl.
To make a ring, cut it into slices with a thickness of about 1mm.
The wider the cucumber, the more beautiful it will be when served.
I want one slice per person, but I want you to slice it
until you get a reasonable width.
And this time, I wanted to make a colorful appetizer
using salmon and cucumber, so I chose red onion and
black olives for the other vegetables.
Red onion that adds brilliance to the dish.
Encouraging ingredients that also accent the taste.
It's not as spicy as white onion, so you can eat it
without soaking it in water, so be sure to choose
red onion as an appetizer like this one!
By the way, most of the marinated fish are white fish.
This is because the action of vinegar causes the protein
to turn white and spoil its beautiful.
Salmon is actually classified as white fish,
but if it is soaked in marinade for a long time,
it will become whitish.
So, just mix with the marinade just before eating or
degrease amount of vinegar or citrus juice.
This time I wanted to use salmon, so I devised
the procedure to make it.
Let's carry it to a plate with good color♪
I always think that it takes a little effort
to get a beautiful finish, so I focused on the details.
Finally, the marinated liquid.
This time, I mixed yuzu and garlic to make it taste
like an adult that goes well with alcoholic beverages.
Blended into this theme, it goes well with alcoholic beverages.
Season when there is no appetite.
It's a punchy appetizer with garlic and yuzu pepper,
and it would be nice if you could recharge with energy.
Please try!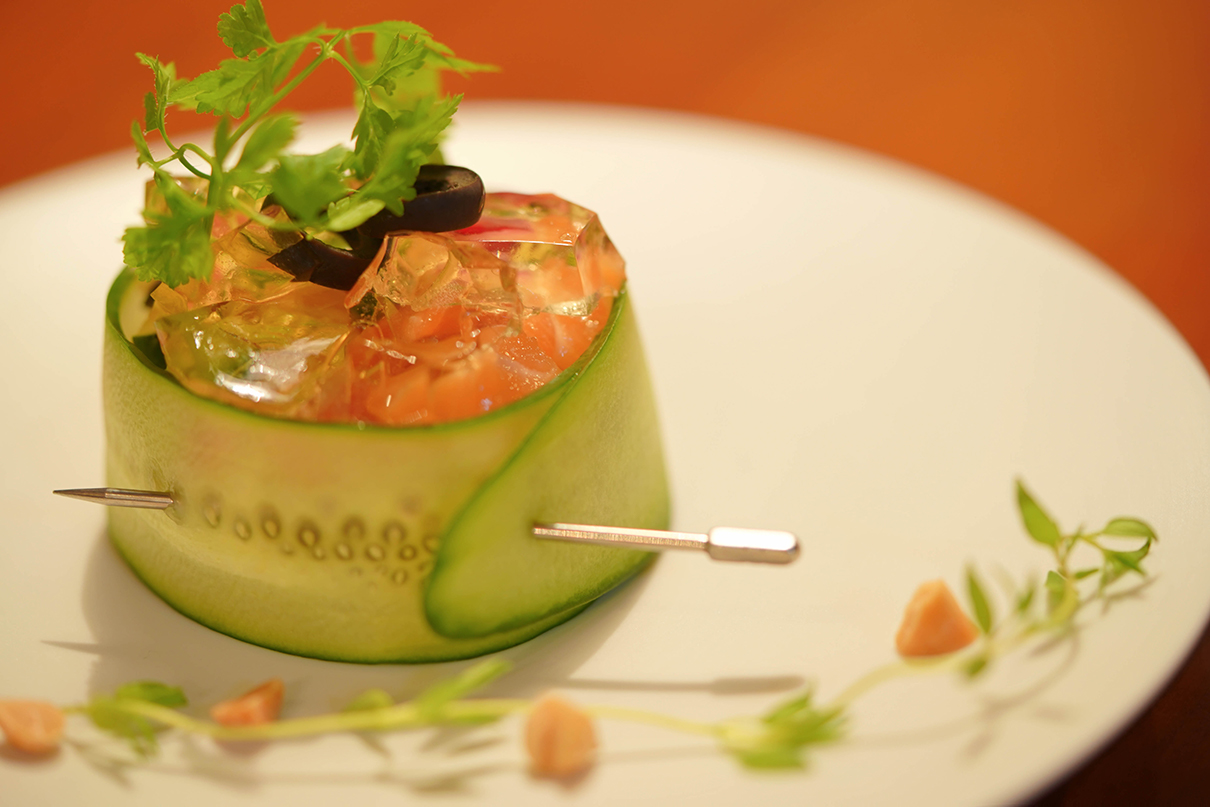 Ingredients
100g raw salmon
1 cucumber
1/4 red onion
2 pitted black olive
---
~Marinade sauce~
2 tbsp olive oil
2 tbsp sudachi juice(or citrus fruit juice)
1 tsp soy sauce
1 tsp sugar
1 tsp grated garlic
1/4 tsp yuzu peppr
---
~Jelly~
200ml water
50ml white dashi stock
5g gelatin
---
~Optional~
some herbs(chervil, thyme…)
some nuts
TOTAL TIME:
30  minutes
(Excluding time to make jelly)
Directions
1 Make a jelly.
 Put water and dashi in a pan, turn off the heat when it warms to just before boiling.
 Add gelatin and stir until it melts, then transfer to a vat.
 After removing the rough heat, put it in the refrigerator and harden it.
 *Let's make it the day before or 5-6 hours before eating♪
 *It is made in a quantity that is easy to make, and about 6 to 7 people will be completed.
2 Cut both ends of the cucumber, lightly plate it, and cut it into long and narrow slices with a width of 1 mm.
 *It would be nice if the number of people could be taken, but a certain width is required,
  so you can do well by slicing several times to the center♪
 After slicing, cut the remaining pieces into 1cm pieces.
 Cut the red onion into 5-7 mm pieces.
 Cut the salmon into thin pieces, and then cut into 1 cm pieces.
 Cut the black olives into slices, leave two in the center and cut them into fine pieces.
 *Save the central slice as it will be used for decoration.♪
 Peanuts are coarsely chopped.
 Peel garlic and grate.
3 Add all marinade ingredients to the bowl and mix.

4 In an another bowl, add all ingredients of (2) and marinade sauce of (3) and mix.
5 Roll the cucumber into a circle, fix it with a pick,
 and pack (4) so that it fits inside the cucumber.
 Lightly crush the hardened jelly and put.
 Besides put the black olives and chervil on it.
 Finally, sprinkle the nuts around and decorate the margin of the plate to complete it♪
6 Pour the soup into a container, sprinkle a little olive oil, dill, and hand-crushed pink pepper.