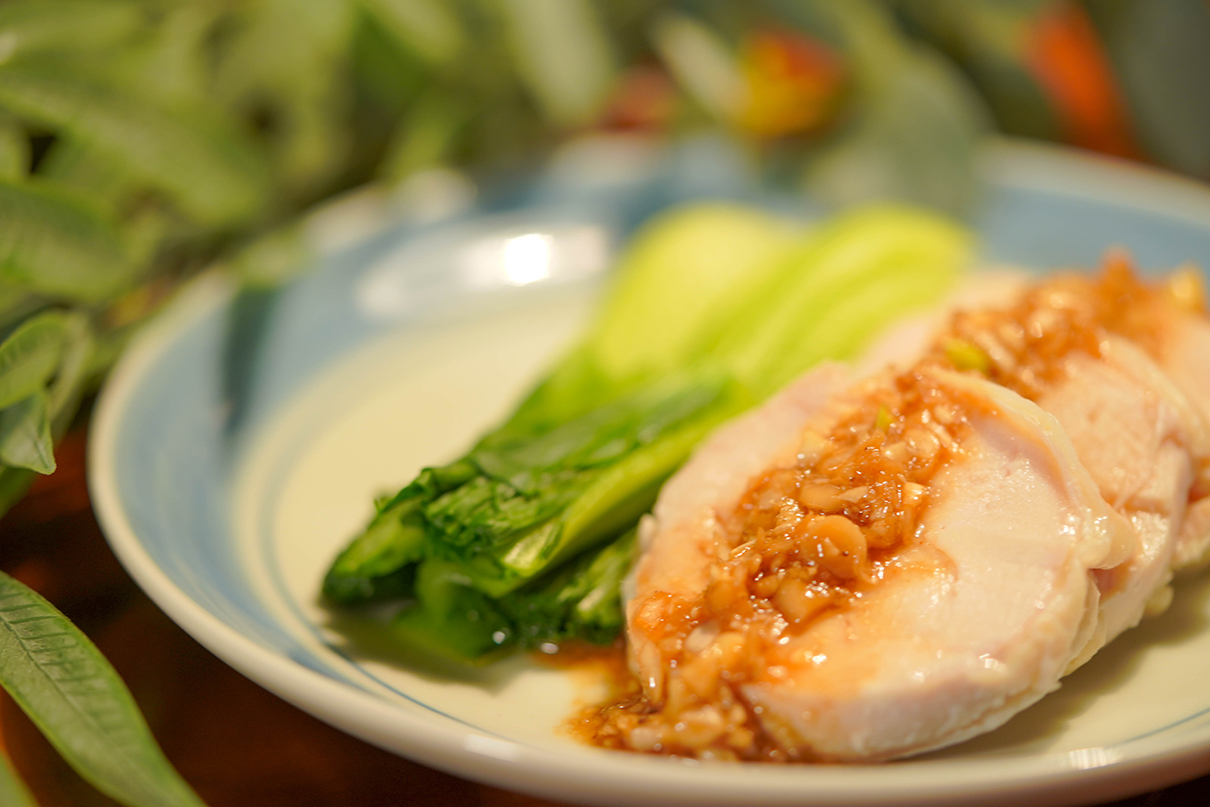 Ingredients
1 skin-on chicken breast(about 300g)
*Remove fat and cut flat
2 tsp sugar
1 tsp salt
2 tbsp sake
~Chinese sauce~
a)5cm Japanese leek(2 tbsp)*Choppped
a)1 tbsp soy sauce
a)1 tbsp vinegar
a)1 tbsp oyster sauce
a)1 tbsp sesame oil
a)1/2 tsp white ground sesame seeds
1 bunch of bok-choy
TOTAL TIME:
15 min. (excluding 2 h. steaming time)
Directions
1 Prepare sake, thread (using 1m), and a plastic bag that can withstand 100 ° C in advance.
 Remove excess fat from the chicken breast and cut it into pieces with an even thickness of about 2 cm.
 Rub the sugar on both sides, then rub the salt on both sides, and then roll it keeping skin to surface.
 Wrap it tightly with thread and put it in a plastic bag.
 Put sake in a zipper bag, knead it well, and seal it to prevent air from entering.
 *Even if you don't like chicken skin, you can peel it off in a later process, so let's boil it together. The gravy from the chicken skin is delicious♪
2 Boil plenty of water in a pan, and when it boils, reduce the heat and put the bag (1).
 Boil for 1 minute, turn off the heat, cover and leave for 2 hours.
 *If the zipper bag sticks to the pot skin, it may melt, so be careful until you turn off the heat. If you hold it in your hand, it will not fail♪
 *Keep the end of the zipper bag out of the pot and close the lid to prevent hot water from entering the zipper bag♪

3 Finely chop the Japanese leek about 10 cm.
 Put all the Japanese leek and the seasoning (a) in a bowl and mix them to complete the Chinese sauce.

4 Place the chicken from (2), and after 2 hours, remove it from the bag and drain the juice.
 Untie the thread, slice it to a thickness of about 7 mm, and serve it on a plate.♪
 *If you are not good at chicken skin, please remove the skin before cutting.
 *This time I garnished bok choy.
  Boil water in a pan, add 1/2 teaspoon of salt, boil for about 1 minute, and then cut into pieces.