What is Soul Food for you?
I think there are one or two.
My(Anthemum's) father is from Fukuoka Prefecture, so I grew up eating delicious food in Fukuoka Prefecture (in the south of Japan).
"Motsu-nabe", "Water cooked", "Amaou strawberry", "Tonkotsu ramen" …
There are many local gourmets in Hakata, but the one that is indispensable for the daily dining table is the "mentaiko".(This is my personal opinion.lol)
By the way, it is no exaggeration to say that recalling daily breakfast in childhood, there is no day without mentaiko at the table.
(Have you ever eaten Mentaiko? It is Alaska pollack eggs soaked in soy sauce.)
Do you know the secret story behind the birth of "mentaiko pasta" using such "mentaiko"?
The origin of Mentaiko is Hakata, of course, but it is said that Mentaiko spaghetti was born in a restaurant in Shibuya, Tokyo.
At the restaurant "Wallhole", which was founded in 1953, the owner of the time seemed to devise various Japanese-style pasta as if he could manage to arrange Italian food that was unfamiliar to Japanese people.
(The name of "Wall Hole" was changed to "Buco di Muro ~Shibuya Dogenzaka Store" in March 2020.)
At the same time, he received a request from a customer to make pasta using caviar, and after trial and error, the Mentaiko pasta was completed.
When the Mentaiko boom based in Hakata just started to catch fire, this innovative balance was supported among Japanese, and it quickly became a popular menu.
I was surprised that the sliced laver with toppings that was placed as a matter of course was also inspired by japanese food.
It can be said that this is exactly the skill of a chef with a creative heart.
This time, we added a refined accent with salmon roe to the mentaiko spaghetti.
(Don't be surprised "Fish eggs again!" lol)
Small pieces of deep-fried dough add texture, and Green shiso leaves and lemon add a refreshing acidity.
I especially like the sourness of the lemon, and it's delicious even if I add more ♪
Don't you eat mentaiko spaghetti with favorite topping?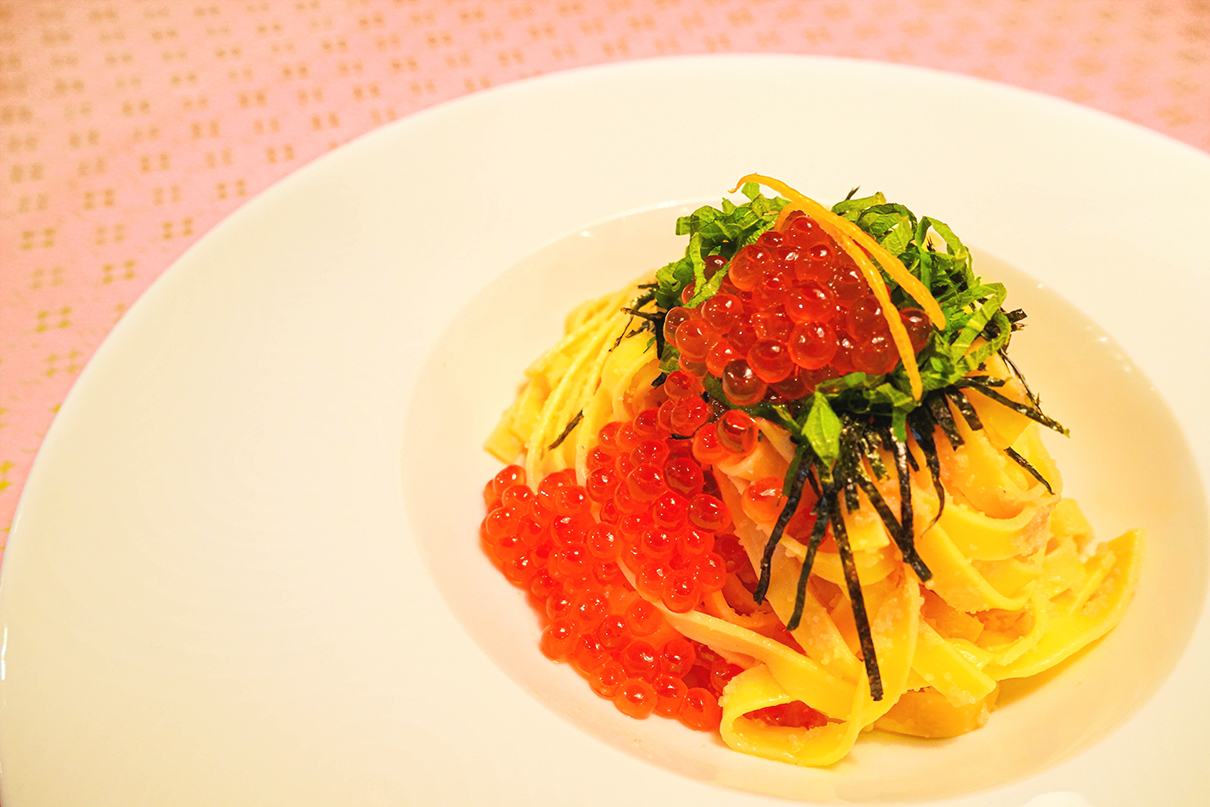 Ingredients
Pasta(100g)
Water(1000ml)
Salt(1/2 tsp)
1 Spicy cod roe "Karashi Mentaiko"
Butter(10g)
Japanese noodle soup base "Mentsuyu"(1 tsp)
Fresh cream(1 tbsp)
Small pieces of deep-fried dough(1 tbsp)
*For topping(as you like)
Sliced laver(as needed)
Green shiso leaf(2-3 leaves)
Salmon roe(as needed)
Lemon peel(as needed)
Directions
1 Put water(1000ml) and salt(1/2tsp) in a pan and bring to a boil.
 Put pasta in the pot and boil for the indicated time.
2 Prepare the sauce while boiling the pasta.
 Make a cut in the skin of the spicy cod roe and peel off the skin.
 Cut the butter into 5㎜ squares.
 Layer the green shiso leaf(2-3leaves) and shred it.
*This time I used frozen Mentaiko. It is easy to remove the skin when frozen♪
3 Put the cod roe, butter(10g), Japanese noodle soup base(1 tsp), and fresh cream(1 tbsp) in a bowl.
*This time, we use Japanese noodle soup base without dilution.
4 When the pasta is boiled, drain the water, put the pasta in the bowl of (3) and mix until the butter is dissolved.
 Add small pieces of deep-fried dough and mix gently.
5 Put the pasta on the plate and put sliced laver, green shiso leaf and salmon roe on it♪
*When you decorate the lemon peel, it looks beautiful and has a refreshing flavor.