Have you eaten "yakisoba(焼きそば)"?
In Japanese, "yaki(焼き)" means "bake" in English.
And in Japanese, "soba(そば)" means "chinese noodles" in English.
Yakisoba is very delicious when you eat it after a long time.
For example, yakisoba to eat at a festival.
It's a little cold and there are few ingredients, but it's delicious!
This deliciousness was highly praised by foreign friends who came to the festival.
Maybe, the simple taste and delicious taste may be the reason why it is popular not only in Japan but also overseas.
If you trace the roots of yakisoba, in the Taisho era, you can see that yakisoba was created based on Chinese "fried noodles" (Chow mein) .
However, it seemed that "yakisoba" at this time was seasoned with soy sauce.
Before the war, around 1935, so-called "sauce yakisoba" came to be cooked in okonomiyaki restaurants.
I just introduced the history of "okonomiyaki" on this blog the other day, but you can see that there are many similarities between okonomiyaki and yakisoba, such as how to use sauce and cabbage.
It is such a classic home-cooked yakisoba, but it recently regained attention as a "local B-class gourmet".
"Yokote Yakisoba" in Yokote City, Akita Prefecture and "Fujinomiya Yakisoba" in Fujinomiya City, Yamanashi Prefecture are said to be the precursors to the boom.
Chewy noodles with a crispy texture. A sweet and spicy sauce.
Plenty of mayonnaise or eat with a fried egg―.
There are various charms, in fact, how profound!
By the way, what kind of yakisoba do you like?
It may be fun to master the basic yakisoba and arrange it in your own way.
The suitable amount varies depending on the type of sauce, so please look for the golden rate♪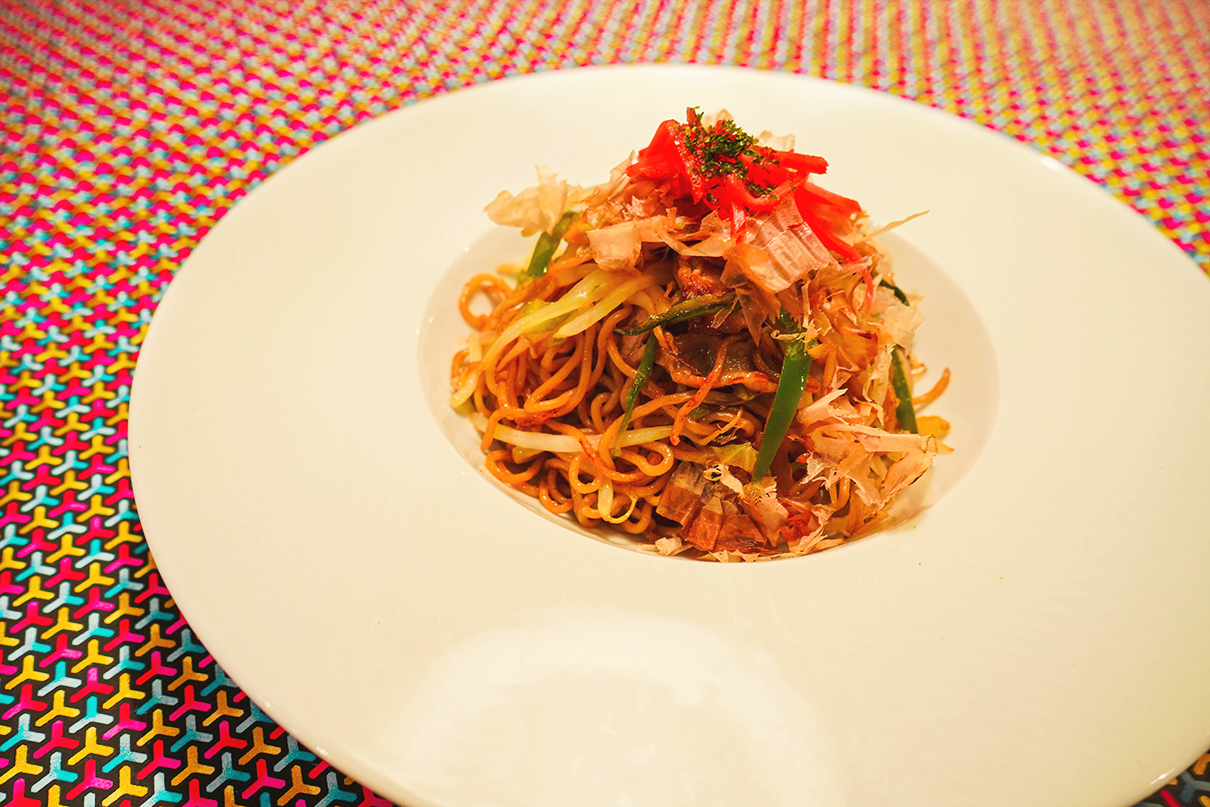 Ingredients
Yakisoba noodle(1 bag)
1/4 Cabbage(3-4 leaves)
1 Green bell pepper
Bean sprouts(1/4 bag)
3 Sliced pork belly(about 50-60g)
Small pieces of deep-fried dough(1 tbsp)
a)Oyster sauce(1 tbsp)
a)Worcester sauce(1 tbsp)
a)Soy sauce(2 tsp)
a)Sake(1 tbsp)
Salad oil(as needed; 2 tbsp)
*For topping(as you like)
Dried bonito flakes "Katsuobushi"
Red ginger "Benishouga"
Green dried seaweed flakes "Aonori"
Directions
1 Separate the Yakisoba noodles with water, wash surface oil and drain..
 Slice cabbage and green bell pepper.
 Sliced pork belly is cut into 2-3cm widths.
2 Add salad oil(1 tbsp) to a frying pan and heat over medium heat to bake the noodles.
*Keep the frying pan not moving for 1 minutes because to add browned♪
 Once the noodles some lightly browned, remove them once to a plate. 
3 Add salad oil to the frying pan again and bake the pork belly over medium heat.
 When the meat is almost cooked, add cabbage and green bell peppers in order and fry.
4 When the cabbage is well cooked, put the noodles back in, and add the seasoning of (a) on the noodles in order.
 After loosening the noodles and seasoning, add bean sprouts and small pieces of deep-fried dough, then stir the whole.
*If you are buying noodles with powder sauce, add sauce here instead of a) ♪
5 Serve in a bowl, add dried bonito flakes, red ginger, and green dried seaweed flakes as you like♪