Do you like natto?
The smell is so strong that some people may not have eaten it.
However, in Japan, natto is a favorite food for so many people
that they eat it every day.
There are even natto specialty stores.
Well, today's Japanese pasta with natto and tuna.
Cream of edamame soup and yuzu marinade with salmon and cucumber.
And this is the main dish.
Actually, I wanted to make this natto pasta, so I can say that
I thought about other dishes later―
The taste of natto pasta varies greatly depending on the sauce
and other ingredients
Today's natto is finished to make it easy to eat―
The harmony of the tuna sauce, which is entwined with the garlic
flavor, is excellent.
I arranged it with a little Western flavor, so I think it's easy to eat!
When choosing natto, of course, it's best if you have your favorite natto,
but my recommended natto is "Hikiwari natto"(Chopped natto),
a small 5 mm square.
Smooth texture and easy to eat.
It mixes well with sauces and pasta, the taste of natto stands out―
By the way, with ASMR, you can even hear the fluffy sound of natto
stirring in your ears ❣
I'm surprised ☺‼ !
I would be happy if you could listen to it♪
And as for pasta, thin noodles like Fedelini are recommended.
Pasta is mixed with natto and becomes a light finish―
Immediately after boiling, add it to the bowl containing the sauce
Entangle the pasta in a hot heat to melt the butter―
Pasta sauce made from noodle soup and butter.
Finish with a strong taste.
If you are interested, please give it a try 😉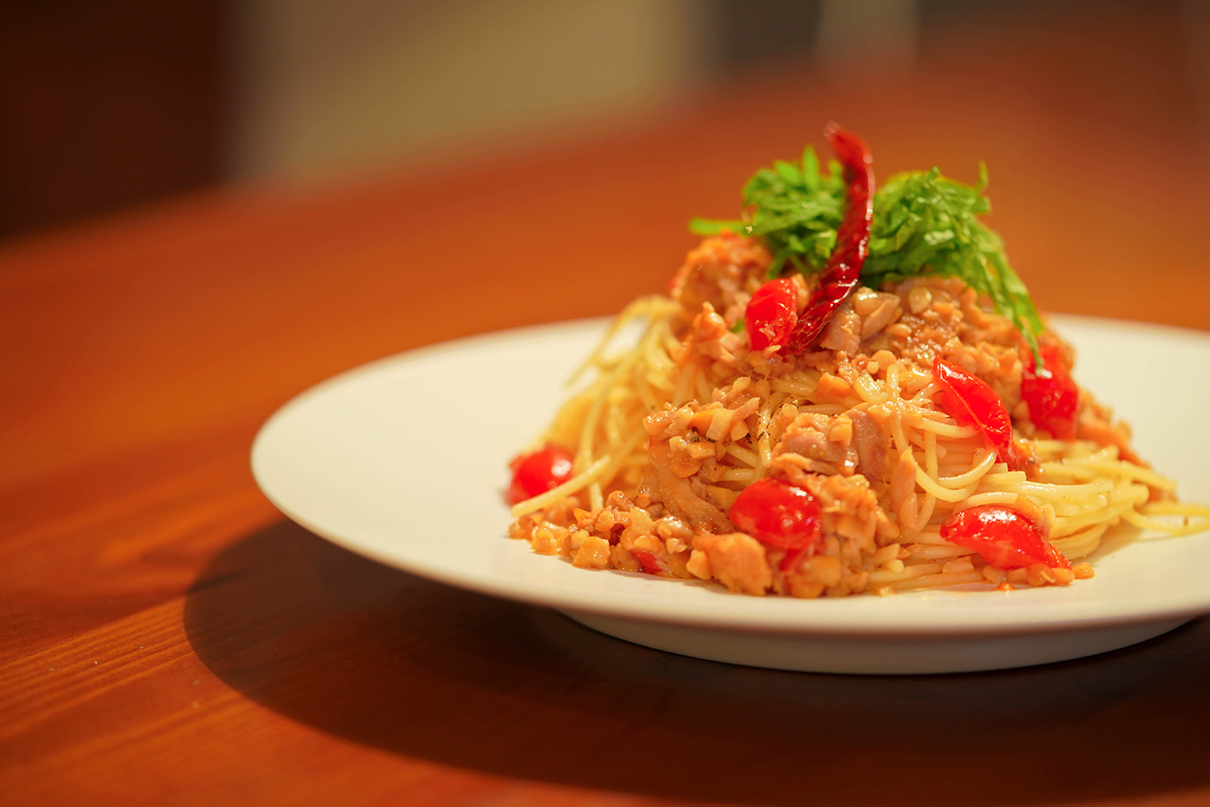 Ingredients
180g pasta *use Fedelini
1500ml water
1 tbsp salt
2 pack chopped natto
1 clove of garlic
2 red pepper
1 cannned tuna
6 petit tomatoes
4 leaves green shiso leaf
1 tbsp olive oil
50ml boiled soup


---
~For pasta sauce~
1 tbsp Japanese noodle soup base "Mentsuyu"
10g butter
Directions
1 Layer the green shiso leaves and shred.
 Finely chop the garlic.
 Cut the petit tomatoes into 4 pieces.
 For the natto, add the attached sauce and Japanese pepper(Karashi) and mix well.
 Open the lid of the canned tuna.
2 Prepare pasta sauce.
 Put Japanese noodle soup and butter in a large bowl.
 *The noodle soup is used as it is undiluted♪ It's rich and delicious.
3 Put water in a pan and boil it.

4 In the meantime, prepare ingredients.
 Heat a frying pan over low heat, add olive oil, garlic and
   chili pepper (seedless), and stir fry it until the garlic aroma comes out.
 Set to medium heat, add tuna, and cook while loosening.
 Add natto and lightly stir-fry with the whole.
5 When the hot water in the pot of (3) has boiled, add salt and pasta and boil for the prescribed time.
 About 3 minutes before boiling, add the tomato and pasta boiled juice to the frying pan (4) and loosen the whole.
  Turn off the heat when the boiled juice and ingredients are familiar.
6 Softly roll pasta on a plate and serve (5).
 Put the shredded green shiso leaves on top and decorate with the pepper.