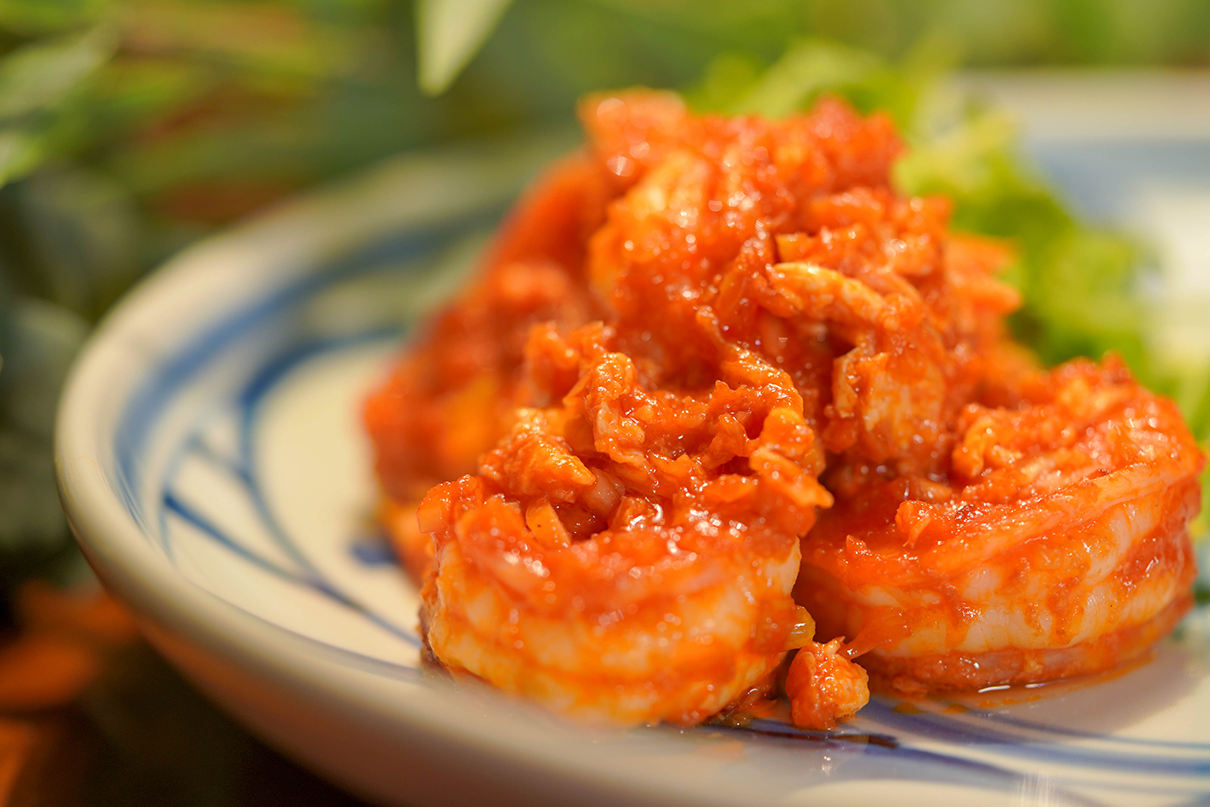 Ingredients
10-12 shrimps *peel the shell
1/2 tsp salt
1 tsp potato starch
1/2 Japanese leek *choppped
1 clove of ginger & garlic *choppped
a)4 tbsp tomato ketchup
a)1 tbsp sugar
a)2 tsp sake
a)1 tsp soy sauce
a)1 tsp miso
a)1/2 tsp Japanese red chili pepper
1 egg
1 tsp vinegar
Chili oil(adjust to suit your needs)
2 tbsp salad oil
Directions
1 First, prepare the shrimp.
 Stripping the shell and remove the vein.
 Cut off the tail diagonally.
 Put shrimp in a bowl, add salt and potato starch, rub it, add water and wash it well.
 *This removes dirt and smell on the shrimp♪
 Drain the washed shrimp and wipe it off with kitchen paper.
2 Finely chop the garlic, ginger and Japanese leek.
 Mix all the seasonings in (a).
 Melt the egg.
 *When making Chinese food, it is important not to panic if you mix the seasonings first.

3 Put salad oil (1 tbsp) in a frying pan and heat over medium heat to line up the shrimp.
 Bake both sides for 1 minute each and then remove.
 *You don't have to bake any more because the heat passes when you entangle the sauce.

4 Put salad oil (1 tbsp) in the same frying pan and fry garlic and ginger over low heat.
 *The oil left in the frying pan has the flavor of shrimp, so use it as it is without wiping it off ♪
 When the garlic scent comes out, add the Japanese leek and fry until cooked.
 Set to medium heat, add (a) and fry well to remove alcohol.
 Put the shrimp back in and entangle the whole thing firmly.
 *Stir-fry ketchup to make the taste mellow♪
5 Turn the beaten egg in and mix it roughly, then reduce the heat to low.
 Sprinkle with vinegar and chili oil if you like, and you're done.
 Serve with vegetables and serve in a bowl to complete.
 *Use vinegar to make the whole mild, and chili oil to add spiciness♪
 *This garnish was made with bean sprouts♪