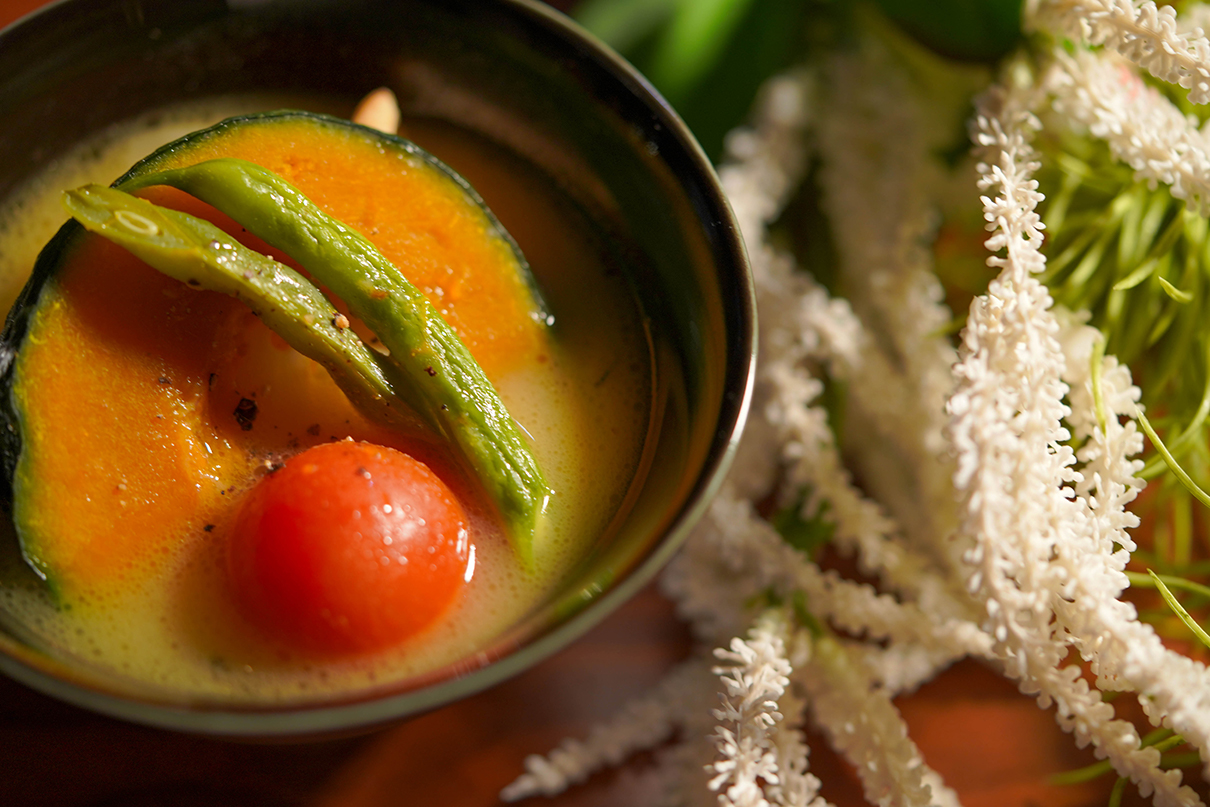 Ingredients
2 pieces sliced squash
1/2 onion
2 string beans
2 cherry tomatoes *remove the stem
2 pieces chicken breast strips
A pinch of salt
Flour (as little)
300ml water
1 pack of dashi soup
1 tbsp white miso
1 tbsp milk
5g butter
pepper (as needed)
Directions
1 Wash squash skin well and slice into 7 mm widths.
 Cut the onion into 1cm width.
 String beans are cut diagonally into 2 or 3 pieces according to the depth of the bowl after removing the strings.
 Remove the cherry tomato stem.
 Remove the strings of chicken breast, cut into 2-3 pieces, season with salt and pepper, and lightly sprinkle with flour.
2 Put the salad oil in a pan and heat it over medium heat to fry the onions and chicken.
 When the surface of the onion is clear, add water, dashi stock, and squash.
 When it comes to a boil, turn it to low heat and simmer for 5-6 minutes.

3 Add string beans and cherry tomatoes and simmer for another 3-4 minutes.
 It's OK that the string beans are just cooked.
 Melt the white miso, add milk and butter, mix once and turn off the heat.
 *This time, the amount of soup was small, so I melted the miso in a separate bowl, but of course it is OK to melt the miso in the pot.
 *Butter melts with residual heat.

4 Put the chicken and onion in a bowl, put the squash in the center, and add the string beans and cherry tomatoes.
 Gently pour the soup from the edge of the bowl and sprinkle with the pepper to complete♪