"Good, easy, fast."
Japanese people think of "gyudon" when they hear that.
It is nothing more than a representative of Japanese fast food produced in Japan.
Today, the menu that can be eaten at beef bowls is not limited to beef bowls, but there is a wide variety of dishes such as pork bowls, curry, and fish set meals, but the beginning was only a beef bowl.
Currently, there are many Gyudon chain stores represented by "Yoshinoya", "Matsuya" and "Sukiya", and the total number of the stores is more than 4000 the number, but
Speaking of a long-established beef bowl chain store, it is definitely decided by "Yoshinoya".。
T
he Yoshinoya opened in 1899 for people working on the Uogashi in Nihonbashi at that time. It is said that the founder Mr. Eikichi Matsuda provided "Beef and rice", which had become popular among the people.
At that time, gyudon itself was a high-class meal, but it is popular with busy fish market people and seems to be very useful.
Then, after the Great Kanto Earthquake in 1923, fish market moved to Tsukiji and the Yoshinoya moved to Tsukiji too, opening as the "Yoshinoya first store".
For the first time at a restaurant, we also introduced a 24-hour business style.
This Tsukiji No. 1 store was burnt down during the war, but after that it resumed operations. It is a store with a long history of protecting the corner of Tsukiji until the market closes in October 2018.
(By the way, the Yoshinoya, which is the successor of the first store, has opened in the Toyosu Market and it is said that it has inherited the original menu unique to the market although there is no sign of the first store.
For example, "Tsumeshiro".This is cold rice over a warm beef dish. It seems that it was born because people in busy markets can eat as soon as possible, but it's really interesting‼)
The story went wrong, but the second Yoshinoya store opened in 1968.As of 2020, about 50 years have passed, and now the number of domestic stores has grown to over 1,200.
Gyudon has grown alongside the people's lives.
The bite to eat with history is very delicious.
By the way, how about a beef bowl for today's menu?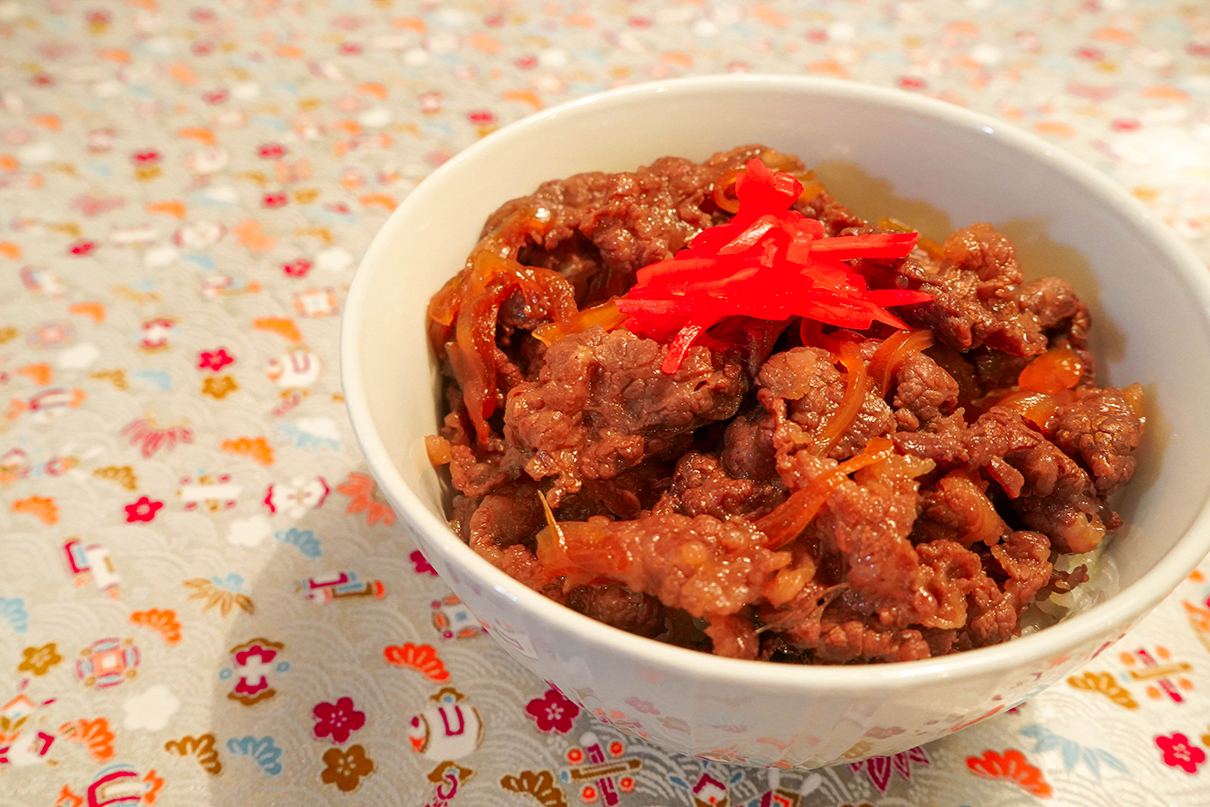 Ingredients
Thin slices of beef belly(200g)
1/4 Onion

a)Water(100ml)
a)Soup stock(1 bag)
a)Soy sauce(2 tbsp)
a)Mirin(2 tbsp)
a)Sake(2 tbsp)
a)Sugar(1 tbsp)

Rice(as needed)
Red ginger "Benishouga"(as needed)
Directions
2 Put a frying pan on medium heat, add water(100ml) and 1 bag of dashi stock, and boil for 2-3 minutes after boiling.
 After removing the dashi pack, add soy sauce, mirin, sake (2 tbsp each), sugar (1 tbsp) and onion, and simmer until the onion becomes soft.
3 Add beef and cook.
 Once the heat is cooked, set it to high heat and entangle the meat and sauce to finish.
4 Serve hot rice in a bowl, top with beef, and optionally add red ginger and shichimi pepper to finish♪