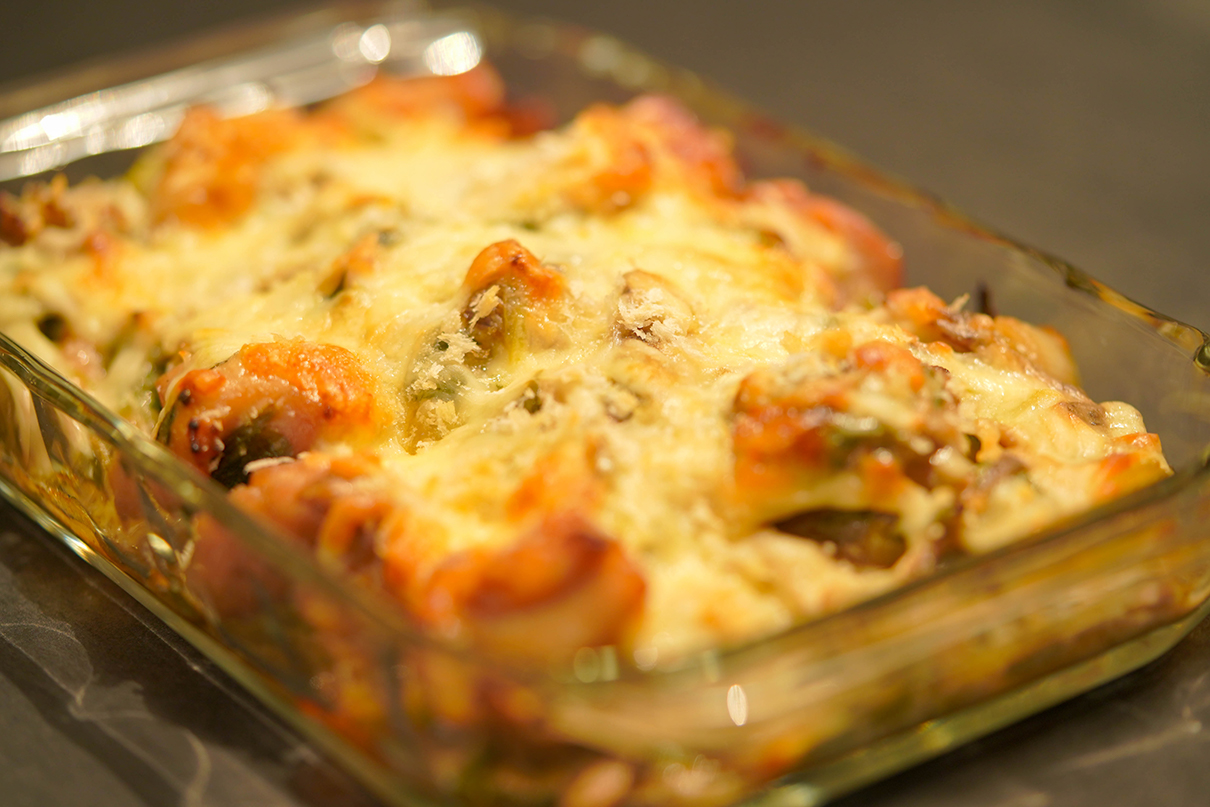 Ingredients
150g of Kujo green onion(4-5bundle)
*Cut the stem and cut diagonally
A piece of chicken thigh (300g)
*Take excess fat, cut into bite-sized pieces
1pack of Maitake mushroom
*Divide into small
1/4tsp salt
2tsp sake
2tsp salad oil
10g butter
1tbsp flour
100-150ml milk
1tbsp white miso
4tbsp shredded cheese
1tbsp bread crumbs
Directions
1 Wash the green onions and cut them diagonally 1-2 cm wide.
 Loosen the roots of Maitake mushrooms.
 Remove excess fat and streaks from chicken, cut into bite-sized pieces, sprinkle with salt and pepper.
 *Since the baking dish is shallow, I cut it into small pieces so that the meat would not pop out.
2 Heat the frying pan over medium heat and add the salad oil.
 Add chicken and bake until the skin is browned.
 When the chicken is cooked, add green onions and maitake mushrooms, add sake and salt, and fry well.
 *By adding a small amount of sake and salt, you can heat faster and shorten the time ♪

3 Add butter and mix to entangle with the ingredients.
 Reduce the heat to low, sprinkle with flour, and fry until it blends in well.
 When the flour is gone, add milk little by little and fry to dissolve the flour.
 *It gradually becomes familiar with flour and becomes thicker.

4 Melt the white miso and mix it roughly, then turn off the heat.
5 Transfer (4) to a bakeware, spread melted cheese and bread crumbs evenly, and bake in an oven at 200 ℃ (with residual heat) for 12 minutes to complete.
 *If you don't have enough brown color, please adjust it ♪