No.005 Midsummer holidays in the plateau
Hello. This is Anthemum.
This time, the 5th work is a table setting that matches the dishes of the 44th to 47th works.
This time, I first decided on a gratin using Kujo green onions and
seasonal Maitake mushrooms, so I thought of a side menu that would suit it.
Because it was midsummer, I wanted to make the table refreshing,
so the main color of the table is white!
I imagined a "garden wedding", but it may be said that
it is a refreshing holiday lunch time spent in summer resorts and plateaus ♪
The cutlery decided to match gold with two colors of willow and green.
Most of the dishes combined this time are ZARA HOME.
The two types of plates are shiny and simple white.
It has a thin gold line and shines modestly.
The foiled gold bowl also has a very nice antique feel.
ZARA HOME also has a cute cutlery with a matte gold texture and a smooth shape.
I bought it because the one I thought was good became SALE.
I can't buy a lot of containers, so I would like to enjoy using SALE well.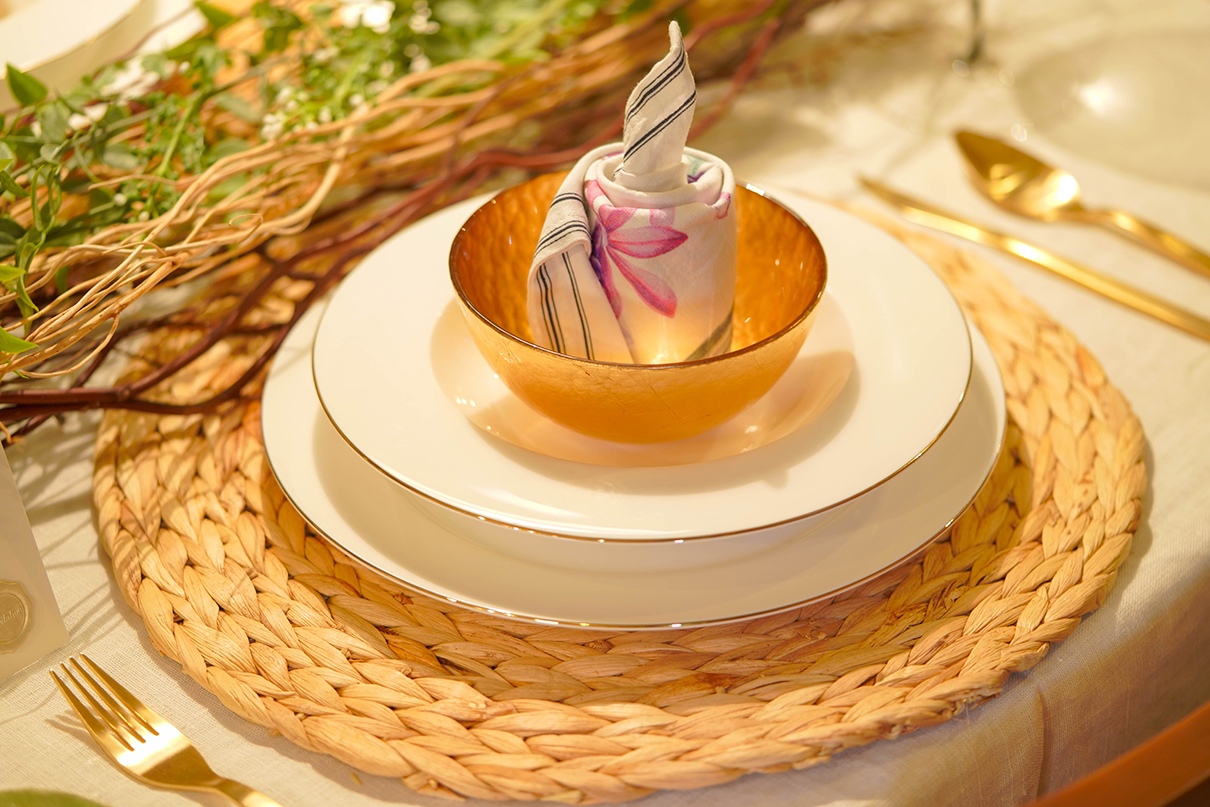 What I used
Under cloth:Table Recipe
Tablecloth:Handmade
Place mat:ZARA HOME
Dishes:ZARA HOME、TSUNE
Cutlery:ZARA HOME
Glass:RIEDEL "Fat a Mano"
Napkin:ZARA HOME
Fake flower:east side tokyo
Menu card:Handmade
Candle:east side tokyo
Candle stand:east side tokyo



■

Main color:White




■ Sub color:Gold




■ Accent color:Green
The cuisine made at this time
☝ Click on the recipe title to see the recipe in the blog ☺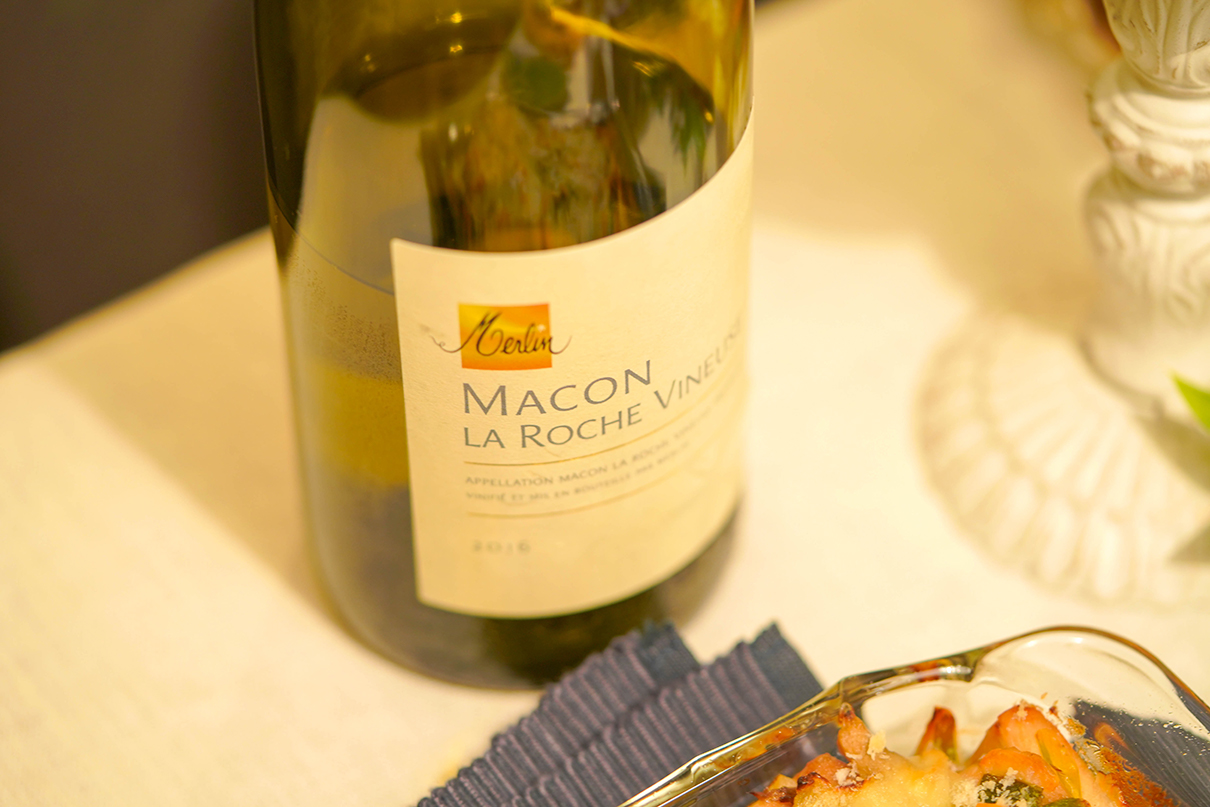 "Macon La Roche Vineuse Blanc 2016"
Chardonnay with rich flavor and enjoyable fragrance. It features a heavy taste that goes well with the main dish gratin.
I asked my friend Sommelier to select that I could bring out the potential more if I let it a little loose without overcooling.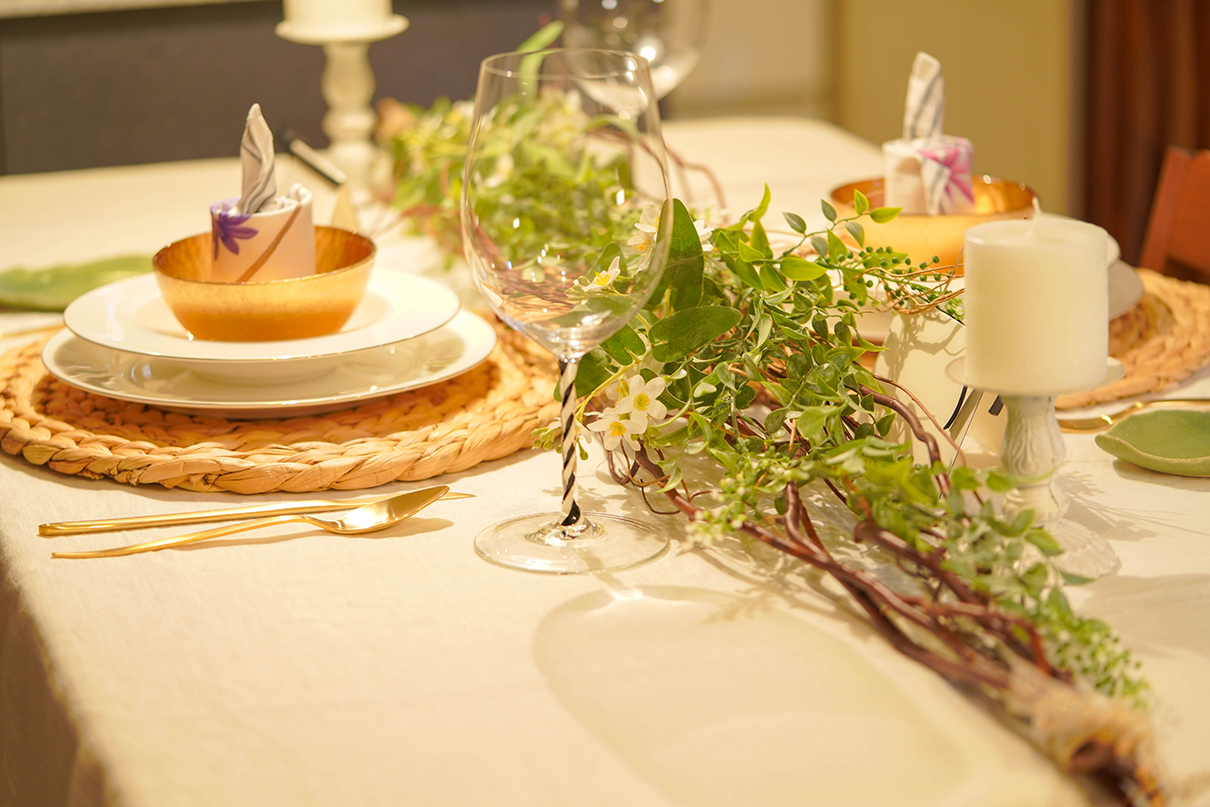 I imagined a bright dining table with clean white linen from Faux & Cachet Inc. Undercloth is also used to maximize the soft atmosphere.
I imagined a bright dining table with clean white linen from Faux & Cachet Inc. Undercloth is also used to make the most of the soft atmosphere.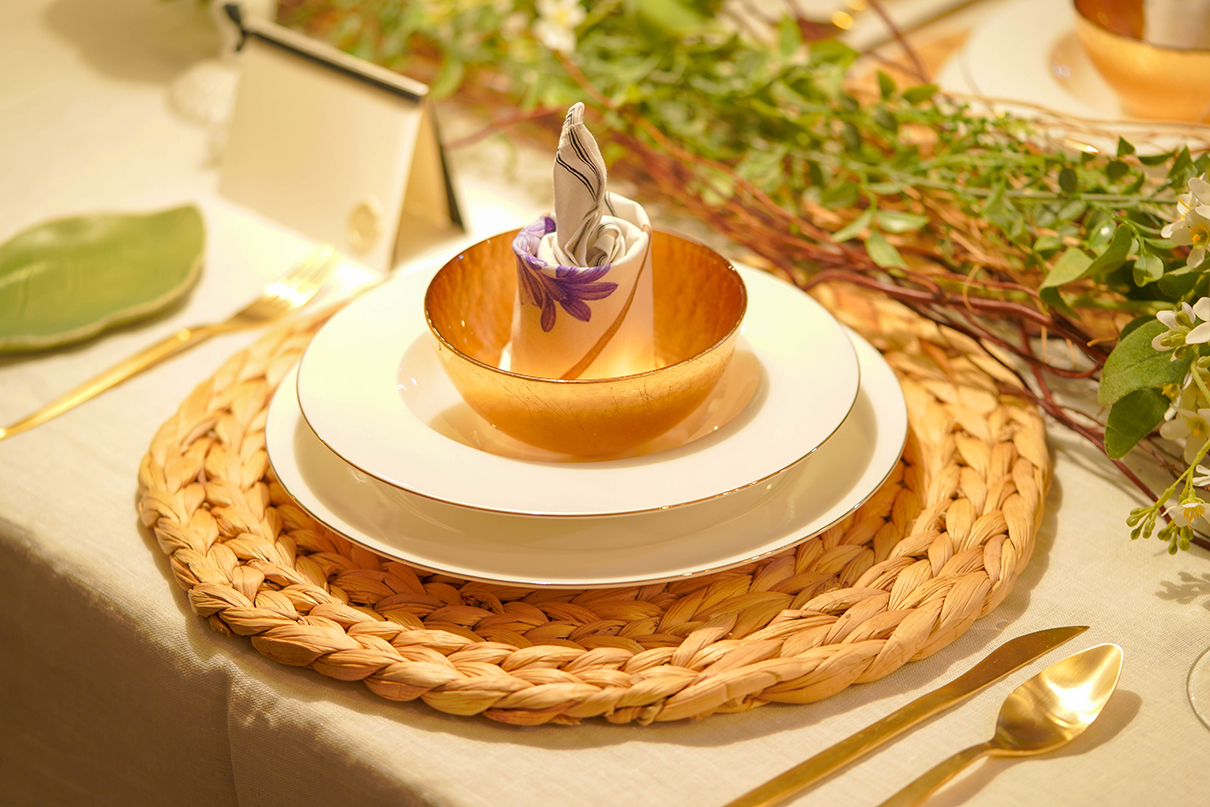 Purchased at ZARA HOME at last year's SALE.
The black line on the edge of the napkin goes well with the twist of the stem of the wine glass, and the colors of purple and pink flowers are also accented.
The way to fold it is called "mini candle". After folding it into a bellows, roll it from the end.
I put it together compactly and decorated it in a gold bowl.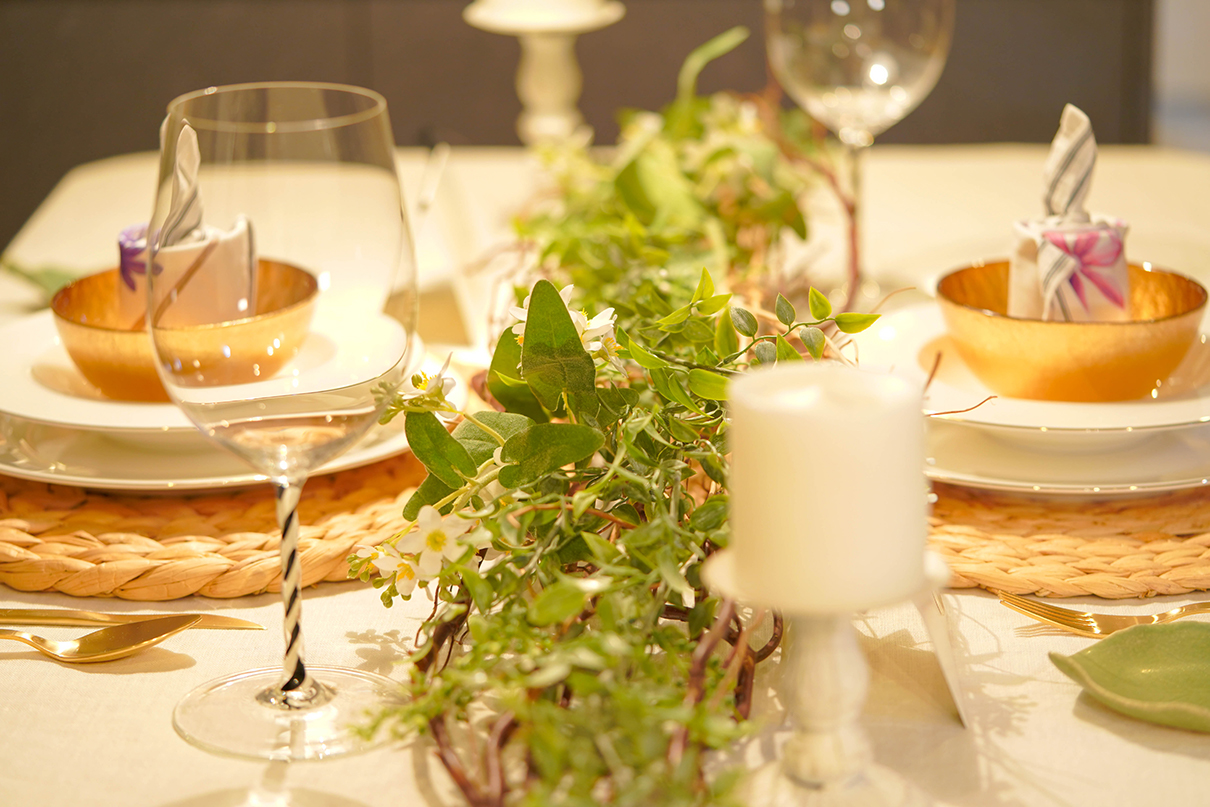 The centerpiece is decorated with two types of willow and green, which are inspired by the forest.
The green has small white buds that create a lovely atmosphere.
Both ends of the willow are tied with a gold ribbon to hide the wire knot ♪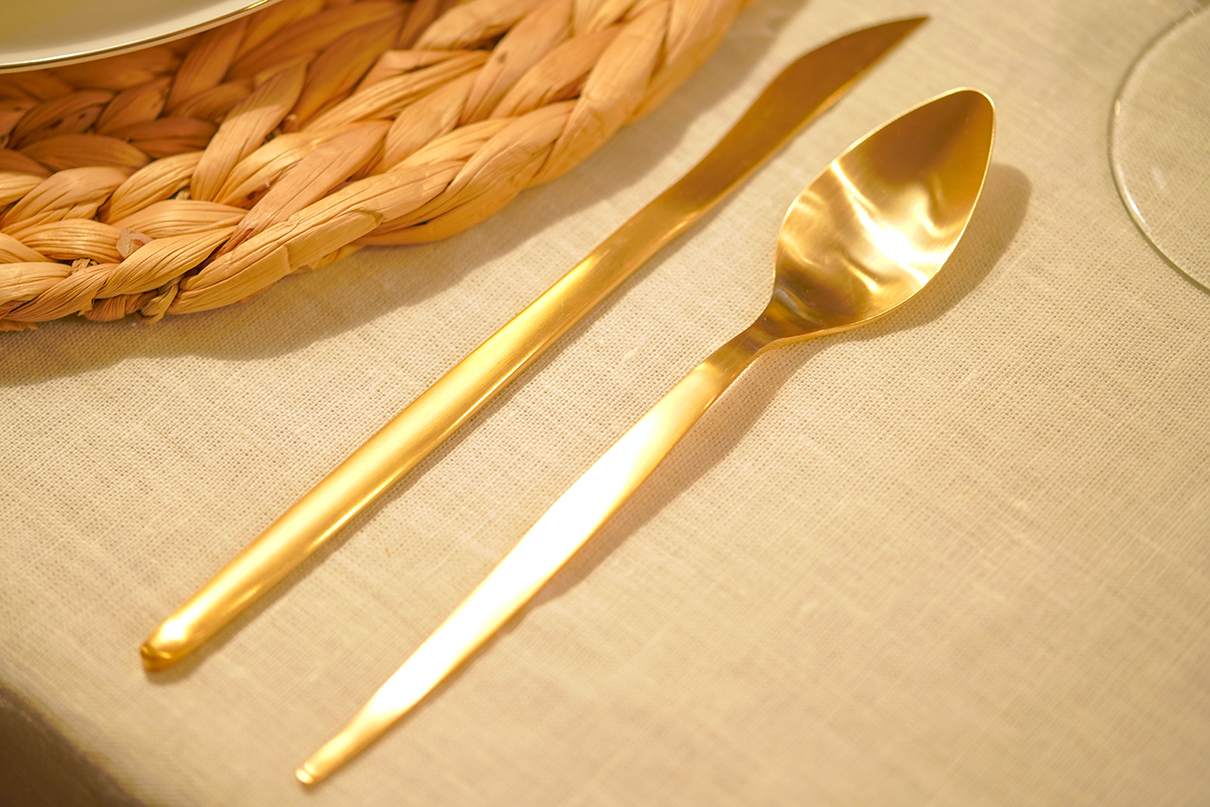 It's from ZARA HOME, and it was as cheap as 690 yen per bottle at this summer's SALE.
Many of ZARA HOME are simple and easy to use, so I often take a look.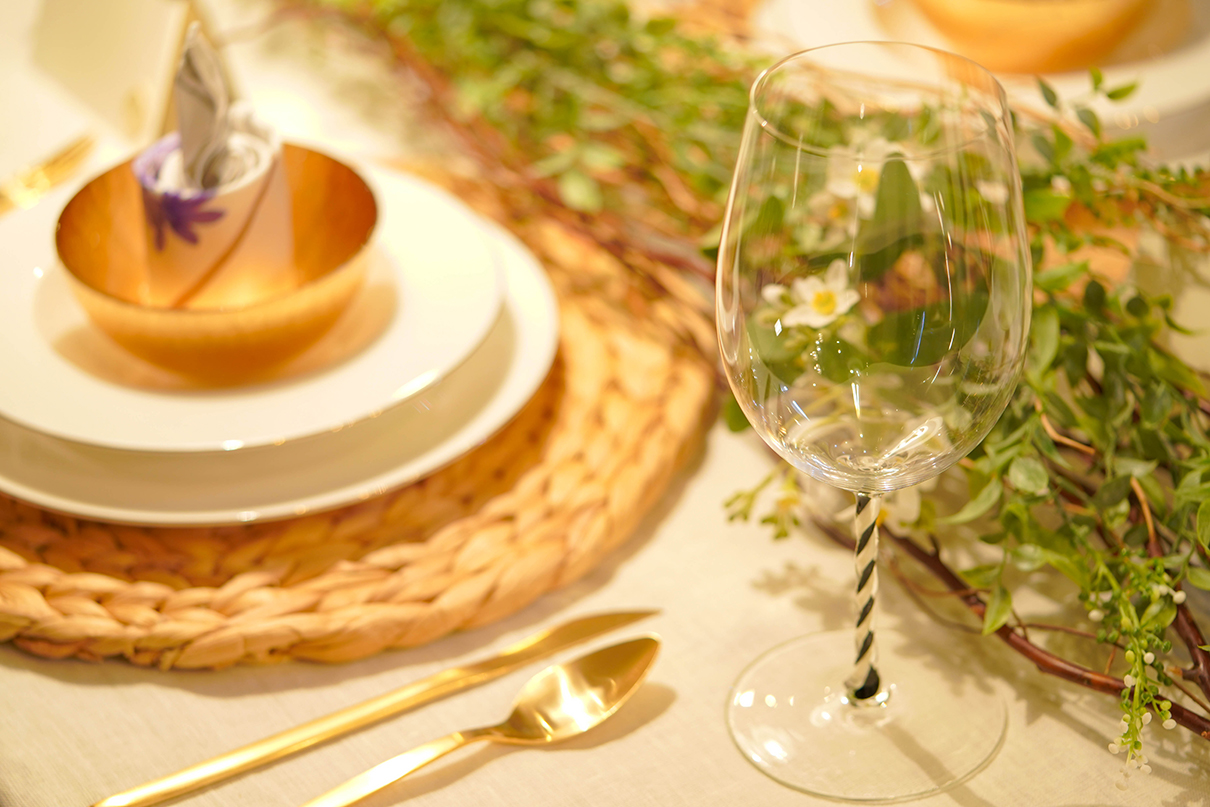 This is a glass from Riedel's "Fat a Mano" series.
I fell in love with the beautiful form at first sight and bought it.
Originally it is a glass for drinking Bordeaux, but as long as it is a mellow Chardonnay like this time, it seems that you can enjoy it with this glass.
Simple and elegant. I made it with the image of the seating order list of the garden wedding
On YouTube, we will deliver table settings and serving dishes!
I would be grateful if you could take a look and let us know what you think ☺♬