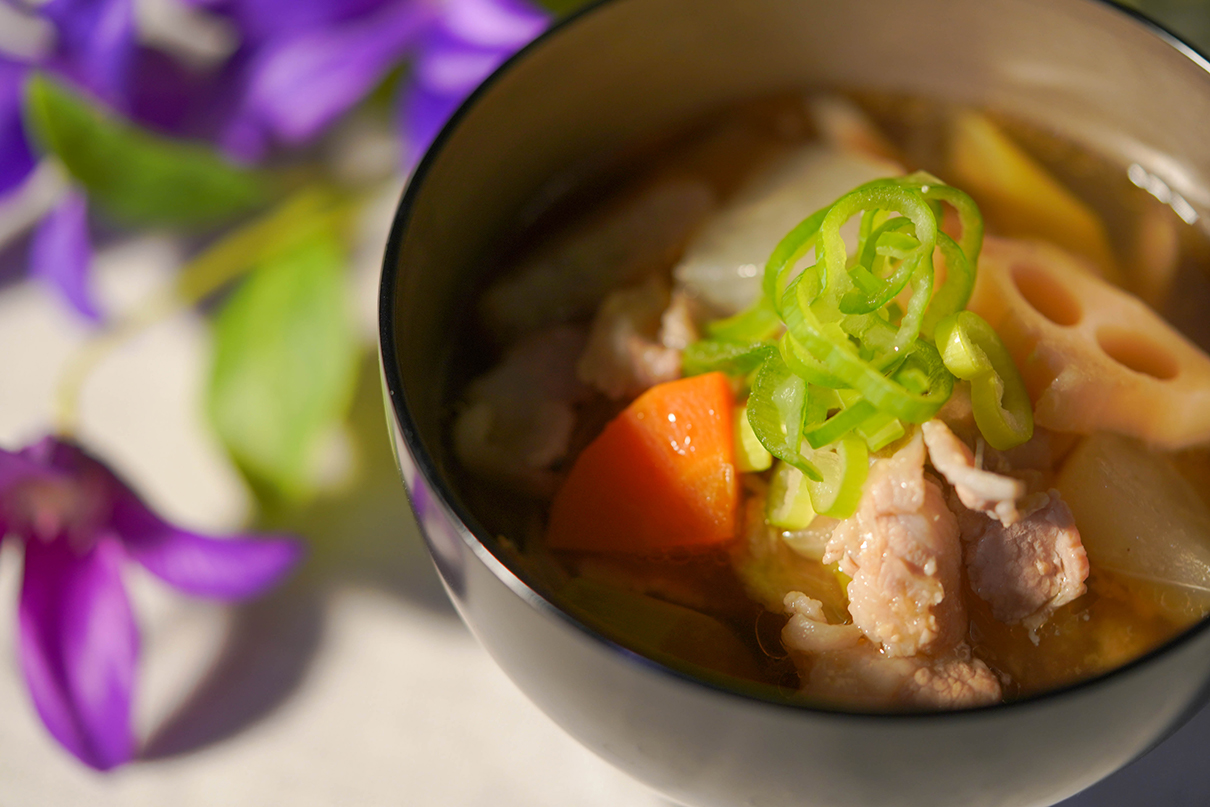 Ingredients
150g thin sliced pork belly
1/2 burdock roots
100g of white radish
1/2 carrot
1 block of lotus root(about 120g)
1/2 stalks of Japanese leek
1/2 pieces of konnyaku
A piece of ginger
A piece of garlic
1 tbsp sesame oil
A pinch of salt
2 tsp Japanese soup stock powder
4-5 tbsp miso
1000ml water
Directions
1 Cut the ingredients.
 ・ Peel the burdock root and cut it diagonally.
 ・ Cut carrots, white radishes, and lotus roots into quarter slice.
 ・ For Japanese leeks, cut the white part diagonally and the green part into round slices.
 ・ Cut konjac strips.
 ・ Peel and grate ginger and garlic.
 ・ Cut the sliced pork into 2 cm widths.
 Rinse the burdock root and lotus root with water and remove the lye.
2 Heat the pan over medium heat, add sesame oil, and fry the pork.
 * The pork tends to stick to the pan, so mix it constantly.
 When the pork is almost cooked, add all the vegetables except konjac and fry.
 Fry until the surface of the vegetables is clear with oil, add grated garlic and ginger, and fry to mix the whole.

3 Add 200 ml of water (about 2 to 3 cm from the bottom of the pot) and konjac, cover and steam for about 5 minutes.
 After roughly mixing the ingredients from the bottom of the pot, add the soup stock and the remaining water.
 * Even if you don't measure the water accurately, it's okay if you add enough water to cover the vegetables.

4 When it boils, reduce the heat to low and scoop the lye.
 * Quickly remove only the surface so as not to spoil the taste of the ingredients.
 Stew for about 5-6 minutes until the vegetables are cooked.

5 Melt the desired amount of miso and turn off the heat.
 Pour it into a bowl and sprinkle the green part of the Japanese leek on it.