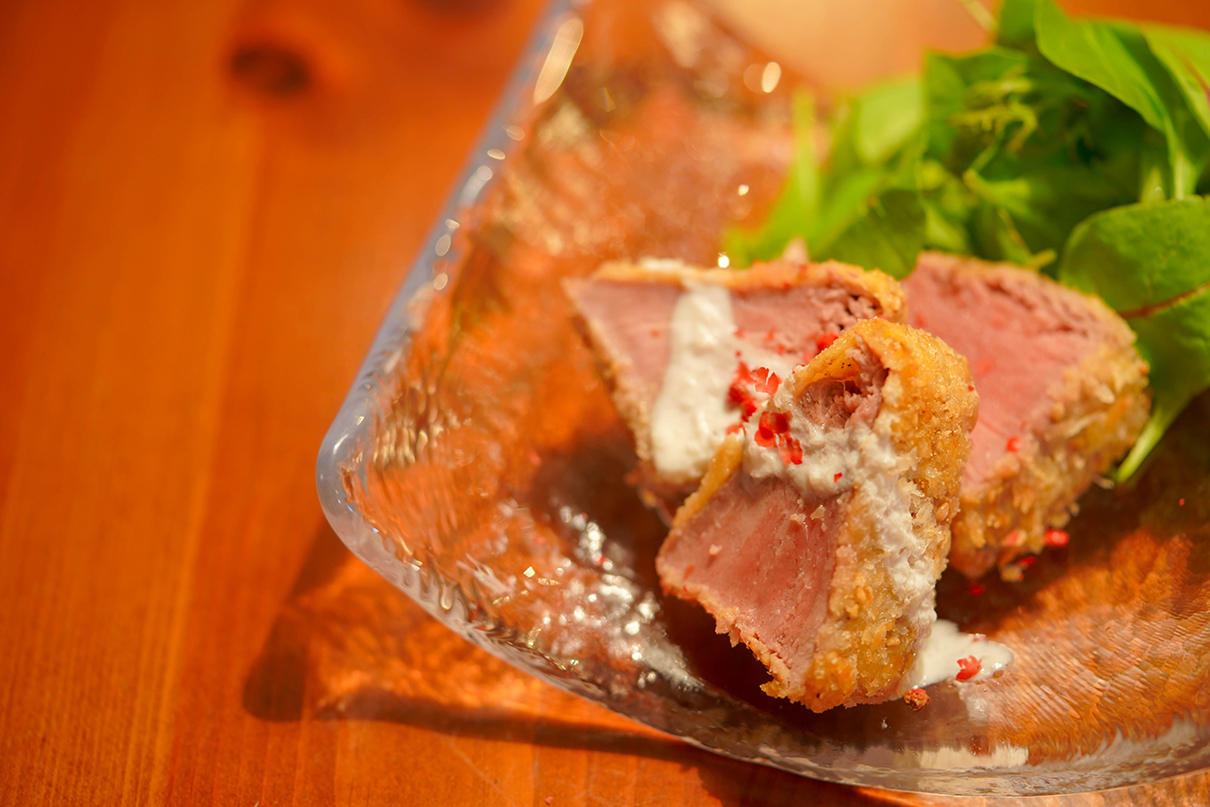 Ingredients
1 raw tuna(200g)
Salt and pepper(a little)
1/2 beaten egg
10ml water
1 tbsp wheat flour
3 tbsp bread crumbs
1 tsp white sesame
a)1 tbsp yogurt(unsweetened)
a)1/2 garlic
a)A pinch of salt
Directions
1 Sprinkle salt and pepper on the raw tuna and leave it for about 5 minutes.
2 Peel and grate the garlic.
 Put yogurt, a small amount of salt and garlic in a bowl and mix.
 *Yogurt sauce has a sour taste and goes well with fried foods. There is also a recipe to add olive oil, but this time I made it healthy and simple.
3 Wrap the tuna in kitchen paper and wipe off the water.
 Cut into pieces of about 4 to 5 cm and wipe off the water on the cross section.

4 Break the egg into a bowl and mix to cut the egg whites, then add 1/2 of the egg to another flat bowl.
 (Anything is OK as long as it is large enough to hold a tuna.)
 Add a small amount of water and flour and mix well until the flour is familiar to make an egg.
 In another flat container, add bread crumbs and white sesame seeds and mix.
5 Clothes the tuna in the order of egg liquid and bread crumbs.
 If you hold down bread crumbs a little, it will stick nicely ♪
6 Heat a small amount of salad oil in a pan and fry the tuna (5).
 *If you fry it in a large amount of oil, it will cook well to the inside and it will not be finished in medium rare, so it will work well if you fry it while rolling it with a small amount of oil♪
7 When the surface of the tuna turns light brown, remove it from the pan and drain the oil.
 As soon as the heat is removed, cut it in half.
 *To prevent heat from passing through♪
8 Decorate the plate with baby leaf, serve fried tuna, sprinkle a proper amount of yogurt sauce and pink pepper, and you're done♪