Do you know the Japanese HIP-HOP group called "TERIYAKI BOYZ"?
It was about 15 years ago that they became popular because of their overseas expansion and collaboration with famous overseas artists.
At that time, I(Anthemum) liked RIP SLYME (some members of TERIYAKI BOYZ), so I knew about TERIYAKI BOYZ, but I was wondering "Is there a foreigner who understands TERIYAKI?".
By the way, TERIYAKI BOYZ had the title of the first album as "BEEF or CHICKEN", and besides they had limited activities only in 2005 (Rooster year).
There was something to do with the chicken.
Maybe, there must have been a member who liked chickens haha!!
(* However, after that, activities continued for a while after 2006.)
At that time, I think that some foreigners were interested in the taste of "teriyaki" as a result of "TERIYAKI BOYZ".
But nowadays, even overseas, it seems that many people like teriyaki as well as sushi and tempura.
Also, McDonald's popular menu "Teriyaki Burger" is one of the popular menu among foreign tourists, so I'm happy as a Japanese.
However, there is a "TERIYAKI sauce" in foreign countries, and it seems that it is common to put it over sautéed chicken or pork steaks.
I see, it's easier than buying all the seasonings, so it's understandable that it's popular overseas, but perhaps it feel a little strange as a Japanese when eating TERIYAKI sauce.
Rather, I would like Japanese people to feel uncomfatable…
Because, for Japanese, Teriyaki is a seasoning that uses soy sauce, mirin, sake, and sometimes sugar to master the golden ratio.
It seems easy and difficult‼
Well, I got a little hotter about teriyaki at midnight haha.
By the way, the golden ratio of teriyaki is basically said to be "soy sauce: mirin: sake" = "1: 1: 1".
I would also like to add that adding your arrangements may be just right.
By the way, how about Teriyaki chicken in today's menu?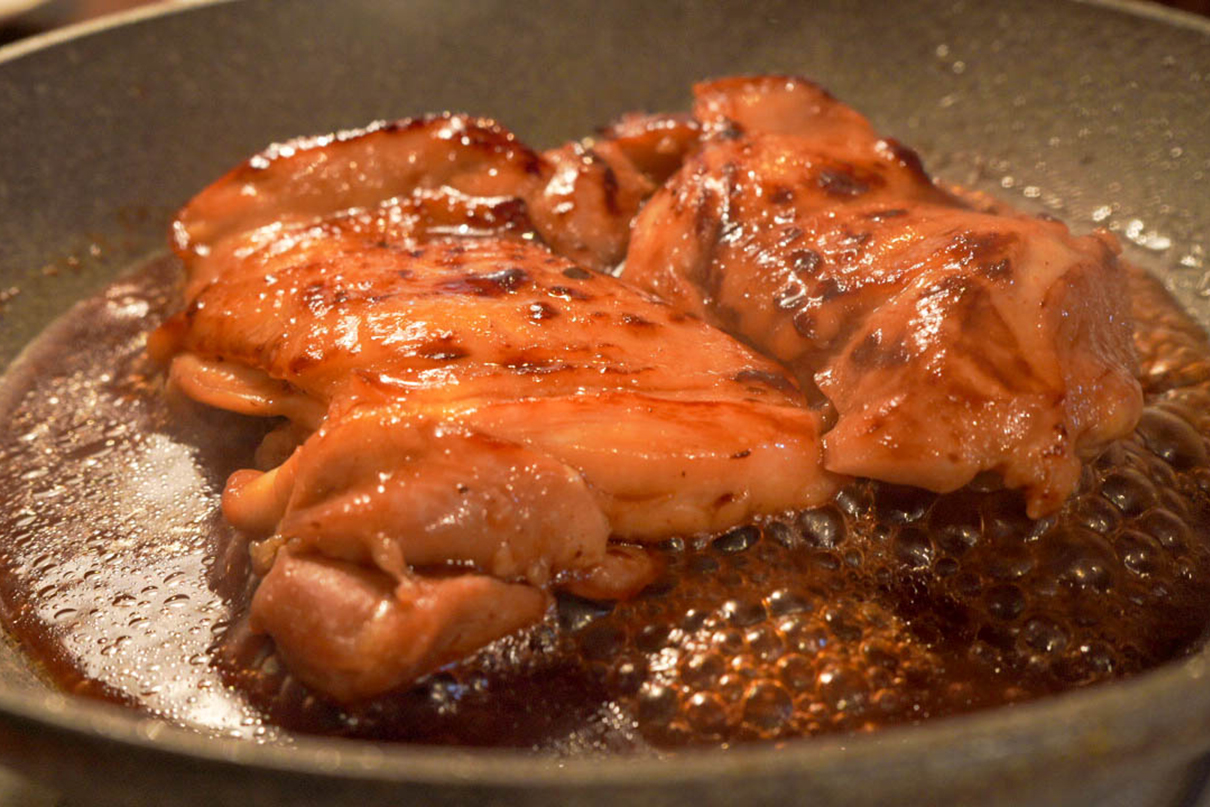 Ingredients
Chicken thigh (1piece (300g))
a)Soy sauce (2 tbsp)
a)Mirin (2 tbsp)
a)Sake (2 tbsp)
a)Sugar (1 tsp)
Directions
1 First of all, we will prepare the chicken.
 Remove excess fat, skin and strings and cut chicken into half.
 *Open the thick part of the meat with a kitchen knife and flatten it so that it will be evenly cooked♪
2 Put the seasoning (a) in a vat and let the chicken be soaked for about 10 minutes.
3 Put salad oil(1 tbsp) in a frying pan and heat over medium heat.
 Wipe off the seasoning sauce on chicken with kitchen paper, and put chicken with the skin side down, and bake for 3 minutes.
 *Keep the seasoning sauce as it will be used at the end!
 *Bake it while pressing the chicken against the frying pan ♪
4 Turn the chicken over and bake for another 3 minutes.
 After that, add the sauce and bake it for 3 minutes while entwining it with chicken.
5 Put the vegetables in the plate as you like, put the chicken on it, and sprinkle with the sauce to complete it♪
 *This time, it used shredded purple cabbage, sautéed pumpkin, lotus root chips, and mizuna(a potherb mustard)!!